Profile
Principals of the Company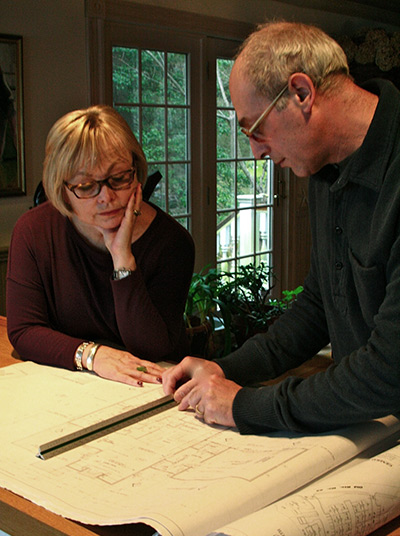 Eric Moss, Builder
Eric, a lifelong resident of Westchester County, was raised in Bedford, New York and has been a resident of Pound Ridge since 1996. Ridgeview Designer Builders Inc. is the culmination of Eric working with some of the area's most noted designers and builders. Having had the great fortune to apprentice with true artisans and European craftsmen, Eric believes that good architecture is not only a marriage of art and design, but incorporates quality craftsmanship and practical know-how as well. 30years of hands-on experience has provided Eric with the tools to incorporate all of these elements into the houses he constructs. With experience in concrete and stone, sitework and excavation, framing and fine carpentry, Eric is able to guide and maintain a high standard of quality throughout the entire building process.
Susan Haft Moss, Designer
Sue grew up near Pasadena, California. After transplanting to NY she studied at The New York School of Interior Design completing a Certificate course. She went on to attend  Parsons School of Design, graduating from Parsons with an AAS Degree in Interior Design.  She began her design career with an architectural and facilities management firm in White Plains, NY where she was involved with the interiors of  a number of commercial projects.  She also spent time as  a designer with a nationally known major furniture retailer, helping hundreds of clients with space planning, furniture selection and softgoods choices.. When Eric and she joined forces, they collaborated on both residential and small commercial projects including kitchens and baths, retail store design and build out, as well as medical and dental offices. Sue is an Allied Member of ASID, the American Society of Interior Designers.
Ridgeview Designer Builders Inc., designs homes with their client's needs at the forefront.  Ridgeview is not tied to any specific style or formula.  As seen on our website, we have constructed Traditional and Country Colonials, California Craftsman inspired homes, and have renovated Mid-Century Modern residences.
Ridgeview focuses our attention on new construction of houses in Westchester County, New York. We have been designing and building homes for a diverse client base with a wide spectrum of lifestyles for over 18 years. Our clients have included first time home buyers, families moving up to larger spaces, empty nesters wanting to downsize, as well as families newly relocated to the area. We fit most client's homebuilding needs.
Having built many homes in  Westchester, we are experienced with the municipalities and knowledge of the local building codes and requirements. Ridgeview has its own earth moving equipment with experienced and qualified manpower to oversee all aspects of excavation and sitework necessary for each project.
Ridgeview believes that the key element to a successful result is listening to the client. Our clients value that ability and our pride in "hands-on" attention to every detail. They appreciate  the careful coordination of interior and exterior colors, materials and finishes and the guidance we provide throughout the labyrinth of decisions made in building a house, maintaining the budget, and delivering the final result on time.  Ridgeview is seasoned.  We have the knowledge, training and expertise to successfully manage every detail of your construction project, from start to finish.  To quote one satisfied client, " The results are beaufitul and the experience outstanding!"